A multi-stage wet scrubber that combines the removal of sulfur, hydrogen chloride, sulfuric acid mist (SAM) and particulate matter (PM) in a single unit has reduced sulfur dioxide emissions by an average of 99.7% in its first large-scale commercial installation on a coal/oil-fired swing boiler. PM emissions were reduced to 0.005 grains/ dscf (dry standard cubic feet; 12.5 mg/Nm3). The installation is on a 420,000-lb/h boiler at a large pulp-and-paper mill.

In the first stage of the process (flowsheet), large particles are removed from hot fluegas by an atomized water-spray quench. From the quench, the stream enters the lower half of a scrubber separator vessel — a vertical, cylindrical unit, where the upflowing gas is scrubbed by a countercurrent water stream. The gas flows up through a Venturi stage that consists of about 40 parallel Venturi tubes, each preceded by a high-pressure liquid atomizer. The combination of the Venturis with finely atomized sprays causes multiple collisions between the droplets and fine particles left in the gas, resulting in high particulate capture as well as acid absorption.

Final cleanup is achieved by a set of dual-orifice mist-elimination trays. Most of the water used in the process is recycled to the Venturi stage after makeup water and caustic have been added. The rest is collected in a sump at the bottom of the scrubber-separator and recycled to the quench section. Dissolved solids concentration is controlled by blowing down a fraction of the recycled water.

The installed cost is approximately 50% that of a traditional arrangement of a dry electrostatic precipitator (ESP) followed by a wet scrubber or wet ESP. Chemical costs are minimized by reusing alkali present in the fly ash.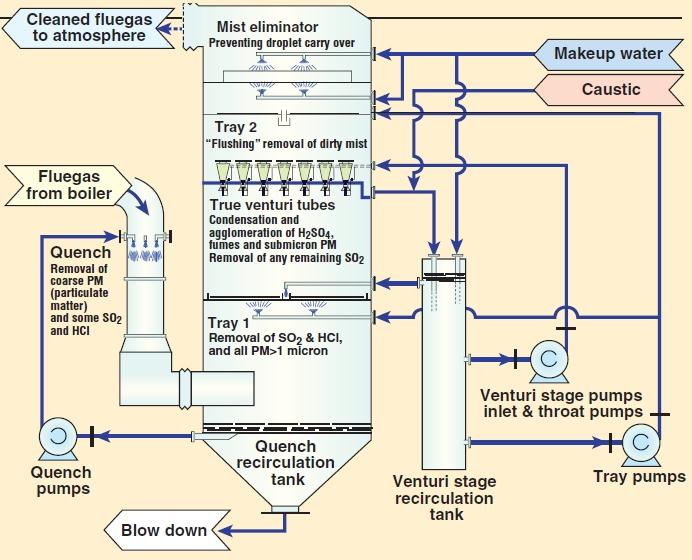 Country

:


Posts

: 45


Likes Total

: 7


Join date

: 2012-02-02


Location

: Lahore/Faisalabad




---
Permissions in this forum:
You
cannot
reply to topics in this forum