Before reading the main article you must know the following basics:
Useful methods of desulphurisation (removal of H
2
S)
Reader must be able to acknowledge that this process is reverse of
[You must be registered and logged in to see this link.]
which is largely endothermic, thus, our reaction is largely exothermic!
Another exothermic reaction that 'regulates' CO, CO
2
& H
2
percentage is
[You must be registered and logged in to see this link.]
Metal dusting
is a comprehensive topic so lets just discuss basics alone:
Metal dusting is a severe form of corrosive degradation of metals and alloys at high temperatures (300-850
o
C) in carbon-supersaturated (high partial pressure of CO) gaseous environments. Fe, Ni and Co, as well as alloys based on these metals are all susceptible. Four regimes of corrosion were identified for Fe as a function of temperature (figure 1 & 2).


rapid uptake of carbon into the metallic phase leading to supersaturation of carbon in the alloy,

formation of metastable carbides (for steels, Fe3C),

decomposition of these carbides when localized deposition of carbon occurs, and

development of a loosely adherent mixture of filamentary carbon and metallic particles, which then act as catalysts for further carbon deposition.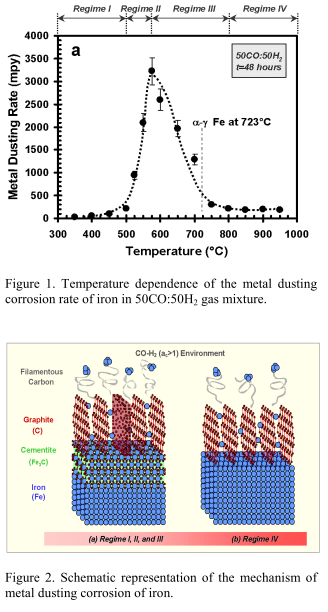 ...& finally because we are dealing with reversible reactions while reading, keep in mind the
[You must be registered and logged in to see this link.]
with respect to temperature & concentration. Already know this principle why not take this
[You must be registered and logged in to see this link.]
[docis]documentId=120712003955-e4ff9f62ad7b4c62a48dd45527080c3e[docis]








Country

:


Posts

: 45


Likes Total

: 7


Join date

: 2012-02-02


Location

: Lahore/Faisalabad




---
Permissions in this forum:
You
cannot
reply to topics in this forum