This process is practised to separate distinct metals from multi-metals ore deposit sites.
In the process (diagram), the crushed ore is piled on a pad into 8m high stacks. Piping at the bottom of the heap supplies aeration to the stacked ore. A leach solution, containing mesophilic* and thermophilic** bacteria indigenous to the region (Sotkamo, Finland) is circulated through the stack from the top. As the bacteria oxidize large quantities of pyrrhotite and pyrite, the exothermic reaction elevates the temperature to over 50°C — even when ambient conditions are at –20°C. After the metals are leached from the ore — which takes about 1.5 yr — the metals can be recovered from the pregnant leaching solution by precipitation and filtration.

Bioleaching is said to be more environmentally friendly for extracting metals than traditional smelting because it generates no gaseous emissions and requires less energy.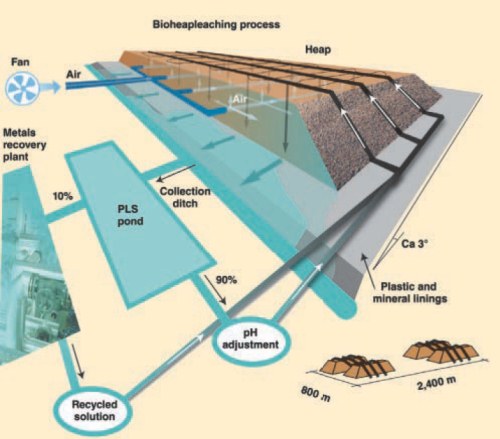 *A microorganism that grows best at 20° to 55°C.
**An organism that thrives at a temperature of 50°C or higher.
A video showing basic operations:
[You must be registered and logged in to see this link.]








Country

:


Posts

: 45


Likes Total

: 7


Join date

: 2012-02-02


Location

: Lahore/Faisalabad




---
Permissions in this forum:
You
cannot
reply to topics in this forum